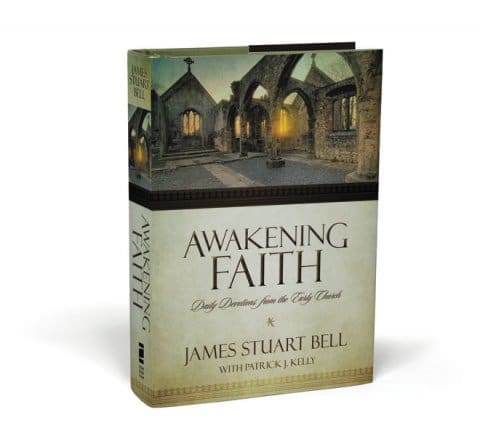 Over the last year, I have found myself desiring to read and learn more of the thoughts and writings from the Early Church. So when the opportunity to review Awakening Faith
by James Stuart Bell was offered, I quickly accepted.
This is a daily devotional with 366 entries in the collection from 69 different Church Fathers. In the back of the book is included a brief biography of each one which I found  both informative and interesting. There is also included a Scripture Index.
This book is an excellent compilation of early church fathers. Each devotional includes a Scripture and is written in updated language making it easy for the reader to comprehend and apply. I found each devotional to be full of wisdom, spiritual insight and give much food for thought. It was refreshing to read thoughts that were not in keeping with the trendy writing styles of today's authors but were timeless in their presentation.
Some of the topics covered by the various writers are: holiness; prayer and devotion; thorns and thistles; the Church; our spiritual inheritance; and service and stewardship. There were many writers that I recognized but some I had not which made for engaging reading. It is amazing that while each of these were written a long time ago, they are applicable for today's day and age. The presentation seemed similar to that of blog posts which drew me in immediately.
Some of the thoughts that spoke to me included:
Be Subject To A Mentor. Learn how to listen to at least one individual at first, who speaks harshly but with healing words. (Clement of Alexandria)
Wounds Of Love. So we ask that we might know you better and more fully, and that you give us nothing but yourself. (Columbanus)
The Way Of Light. Accept as a blessing whatever comes your way, knowing that nothing ever happens outside of God's sovereignty. (Barnabas)
The Richness Of The Psalms. When we read it, we find a medicine to cure the wounds caused by any of our passions. (Ambrose)
The cover to this book is beautiful making this a great book to give as a gift. It is a wonderful resource that would be greatly appreciated.
****I received this book for free from Zondervan  via Cross Focused Reviews for this review. I was not required to write a positive review. The opinions I have expressed are my own. I am disclosing this in accordance with the Federal Trade Commission's 16 CFR, Part 255 : "Guides Concerning the Use of Endorsements and Testimonials in Advertising.