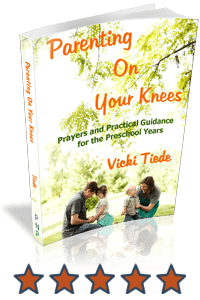 I have just read, Parenting on Your Knees by Vicki Teade
.
The question that comes to my mind is this: "Where was this book when I was raising my own?"
The author has captured the warmth, joy, tears, frustrations, challenges & yes, fun of parenting during the preschool years. She shares her experiences that are common to every parent with transparency & vulnerability. She offers practical advice on the development of toddlers & godly, biblical wisdom.
At the end of each chapter, parents will find recommended resources for both their child & for themselves. She also closes each chapter with a prayer.
The topics covered are: Character; Development; Social Skills; Behavior; Spiritual Growth & Salvation.
Written in easy to read, short sections this book can be used as a daily devotional for parents.
I loved that the author's premise for this book was:
Pour out your heart like water before the presence of the Lord! Lift your hands to him for the lives of your children…..

Lamentations 2:19 ESV
This is a wonderful resource for every mom. I will be recommending this book to all my mom friends.
**Cross Focused Reviews provided me with this book in exchange for my  review.