I love having a twitter account. It is amazing how things can be going on somewhere else & in my own little corner, I simply have no idea. NONE. And so, when I kept seeing a book & author circulate, I became curious. I read each tweet & clicked on every link in an effort to find out what all the hoopla was about. I even signed up for every giveaway for her book in an effort to know what everyone was talking about. To no avail on the giveaways 🙂 So I broke down & bought the book.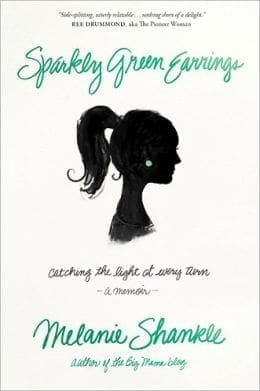 I began reading Sparkly Green Earrings and thought, "OK, it's just OK." But somewhere, it all kicked in for me. Melanie Shankle drew me in or maybe, she sucked me in. As she tells each story & reveals the everyday of mothering and being a wife, I came to love her. I loved her for expressing exactly what I have felt but could not express. I could have expressed it but not nearly as well as she! Each tale of motherhood reveals not only her love of Caroline, her only child, but a deep love & dependence on Jesus. I found myself laughing & crying, sometimes within the same chapter. Then there was the chapter where I laughed so hard & out loud that I had to read it to those in the room so they would know I had not lost it & the book truly is hilarious.
I think my favorite line (and it is a line) in the book was this simple thought on motherhood:
When we loosen our grip, he tightens his."
I read that & the tears flowed. For I know that I have made so many mistakes & I know my flaws, so I will surely make many more. But as I prepare to entirely let go of my son, my last born, my baby – I am so grateful for a God that will be tightening His grip on him with a ferocity unknown to me. And I thank Melanie Shankle from the bottom of my heart for that reminder.
So the hoopla over the book is all true! It really is. And this is a book that every mom should read. If I could have bought it for the six young moms in my study group, I would have. You will feel normal & who does not need to feel that somedays! OK, every day 🙂 You will know that you are not alone in this journey of motherhood that tugs at your heart every day & in every way. You will come to know Perry, Caroline, Melanie, Gulley & Tillie & feel like they are your friends. Heck, you will want them to be your friends!
I await the day of Melanie Shankle's second book. I won't be reading all the hoopla & wondering. I will be running to purchase the book!
**I purchased this book for myself. I was not asked for nor compensated for this review.
Today I am linked with Inspire Me Mondays  and Hear It, Use It and The Modest Mom and The Cozy Book Hop and Grace Laced Mondays and Mom's The Word and Momma Notes .