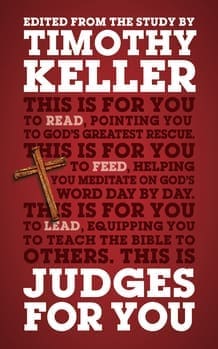 I recently had the opportunity to read Judges For You by Timothy Keller
.  While I have read other books by Keller, this is my first in the Good Book Series.
The book is written in an expository/commentary book style. I found the book to be engaging & for the use of the average Christian. Judges is a hard book to not only read through but to also make sense of. Keller does a beautiful job of not only explaining all that Judges contains but manages to make it all applicable to our present day lives. It is written in an easily understood style which makes it enjoyable & not laborious.
Keller goes through the cycles of sin in the lives of the people and tribes of Israel. Included in the introduction is this quote:
Whatever controls us really is our god….The person who seeks power is controlled by power. The person who seeks acceptance is controlled by the people he or she wants to please. We do not control ourselves. We are controlled by the lord of our life.

Rebecca Manley Pippert, Out of the Saltshaker, page 48-49)
There are six themes that Keller digs out of the book of Judges:
"God relentlessly offers His grace to people who do not deserve it, or seek it, or even appreciate it after they have been saved by it."
"God wants lordship over every area of our lives, not just some."
"There is a tension between grace and law, between conditionality and unconditionality."
"There is a need for continual spiritual renewal in our lives here on earth, and a way to make that a reality."
"We need a true Savior, to which all human saviors point, through both their flaws and strengths."
"God is in charge, no matter what it looks like."
Each chapter of this book includes questions for reflection which would make this book excellent for small group discussion. There is a glossary in the back of the book to define words that are not often used each day outside of the church. There is also included a list of resources that can be used along side of this book.
Keller leads us to realize that we are not much different than the people that lived through the time of the Judges. We, too, "must look to the greatest King – or we will serve a false one" much the way that they did in that time. This is an excellent resource to read & own. It will be used repeatedly. Although this my first read in this series, I look forward to reading other books in this series as well. I highly recommend this book for use in Bible Study, as a devotional or as a commentary.
**I received this for free from The Good Book Company via Cross Focused Reviews for this review. I was not required to write a positive review. The opinions I have expressed are my own. I am disclosing this in accordance with the Federal Trade Commission's 16 CFR, Part 255 : "Guides Concerning the Use of Endorsements and Testimonials in Advertising."