This has been on my mind to share for a few days. I didn't share it as I was so hoping for a different verse to go with this picture. Yet, God is stubborn and this is truly what He has shown me this week. And so, He just is not letting me off the hook on this one until I share it….
As many of you know, I watch my two granddaughters while my daughter and son-in-law work each day. Sophia is now in kindergarten and it is just Jocelyn these days. Since starting back up with her in August, when Lisa was required to start back to school, Jocelyn has done the same thing every day about fifteen minutes after she gets here….
She must try to put on my pink Crocs & walk in them. Now due to the smallness of her feet in comparison to mine, needless to say, she has not mastered the art of actually moving forward in them. But she is determined and tries hard. She will not accept my help. She will not hold on to my hand. She will not hold on to anything.
So most days have looked like this….
And then like this….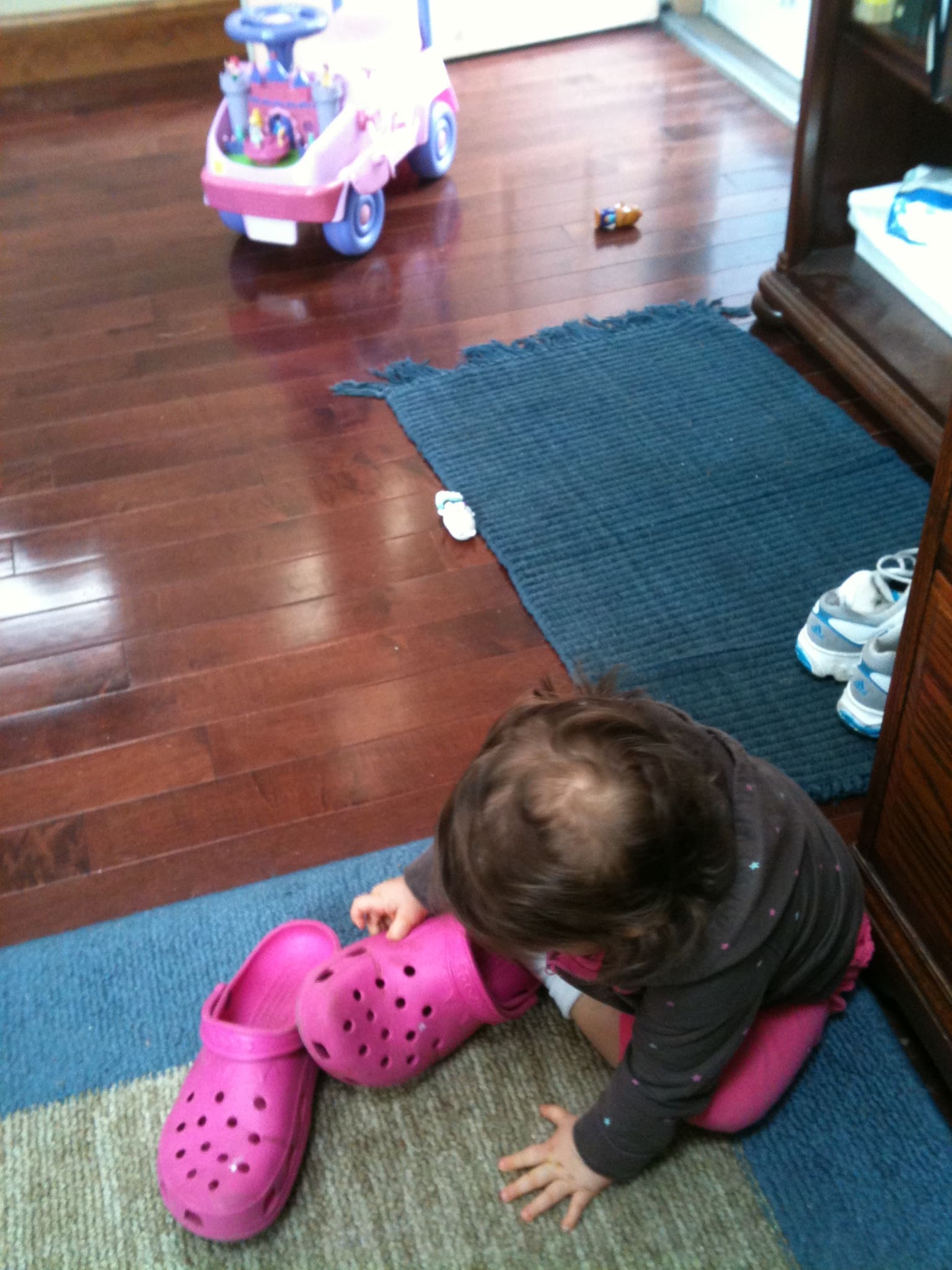 You will notice in the second picture, she is sitting on the floor. Perhaps you are thinking that she is realigning the Crocs so as to be able to slip them on more easily. Sorry, you would be wrong. She is down on the floor because she is now utterly and completely frustrated with them and the meltdown is seconds from occurring. I won't share a photo of that occurring so as to spare her embarrassment in the future. And I won't share a video so as to spare your ears 🙂
And this happens Every. Single. Day.
I kid you not. The other day, it didn't occur until just before noon and I texted everyone to let them know that it was a good day!
The funny thing is try as hard as I could, I cannot help but watch and be fascinated by this whole thing. And then God, with His funny sense of humor, reminded me of this…
"You are no different than Jocelyn."
I should have left it at that, but no, I had to ask, "And how would that be?"
"As a dog returns to its vomit, so a fool repeats his foolishness."
Looking it up in my concordance, I discovered it can be found in Proverbs 26:11. But then again in 2 Peter 2 where Peter uses the expression to describe people who find freedom in Christ and then return to the very thing that once enslaved them. And for each of us, the habit which draws us back every once in a while can be a different thing.
But the thing is that if we allow ourselves to return to that thing, we are no different than Jocelyn, no different than that dog returning to its vomit or as Peter adds, "A washed pig returning to the mud." Peter tells us we are acting in such foolishness when we do this.
So what is it that you keep returning to? Know that there is freedom.
"It is for freedom that Christ has set us free. Stand firm, then, and do not let yourselves be burdened again by a yoke of slavery." (Galatians 5:1 NIV).
I linked this post with Behind The Scenes .
Behind the ScenesBehind the