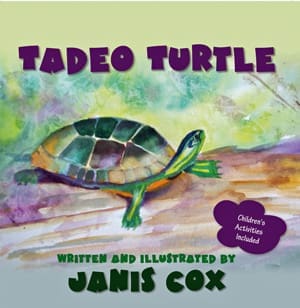 This morning I was delighted to read a children's book – "Tadeo Turtle" by author Janis Cox. This is a tale of a turtle who struggles to accept himself as God created him to be. Janis tells the story so simply, with words that weave and rhyme, which will draw a child in and hold their attention. She has included her own illustrations, which are both compelling and precious.
Having read this on the heals of Thanksgiving, I found the book also drives home this truth: we should be thankful for who God created each of us to be. Janis has based her tale on the truths found in Psalm 139:13-14, NLT.
The author includes four crafts to reinforce the tale which are simple for any elementary age child to do with assistance. The completed projects will be a delight to each child.
She has also developed a complete curriculum to go along with this book which can be incorporated into the following seven content areas: math, language, music, Scripture study, science, art and physical education. That can be obtained through her website as well.
Janis is a wife, mother, grandmother and a retired school teacher. Her love for both her God and for children shines through each page of this book.
This book makes a wonderful addition to any personal or school library. She is currently offering a special on her site from now until Tuesday, Dec.3rd by which you not only get the book but two special gifts. It can also be purchased on Amazon or Barnes & Noble .
**I was given all materials in exchange for my opinion. The opinions expressed here are all my own and this book was truly a joy to review.
Joining with The Cozy Book Hop .

In My Thoughts,
Joanne