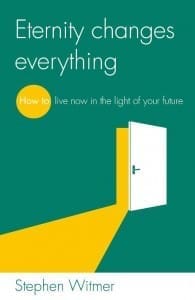 I recently read Eternity Changes Everything by Stephen Witmer. This is a short book in which the author gets us to look at the future in light of our present time here on earth.
In his opening chapter, the author makes this statement:
The future is an unruly thing. It refuses to stay quietly in its place … We are always living toward the future, and the future is always reaching back toward us.
We live our lives here knowing there is more to life than meets the eye. We set our minds on things above. We pursue the things which God would have us to fulfill in our lives. His purposes are the goals we determine to live by.
I found this book to fall short in mentioning that in the midst of that pursuit here on earth, God deposits His grace and His joy and His peace and satisfaction into each of our lives. The focus was primarily on where the world was headed. In my opinion, the author missed the joy that can be found in the journey. I found the book to also be somewhat repetitive in its points. Overall, I must regretfully state I was disappointed in reading this book although I did discover that my view of eternity truly does change the way I live each day currently.
*** I received this book via Cross Focused Reviews in exchange for my honest review. The opinions I have expressed are my own. I am disclosing this in accordance with the Federal Trade Commission's 16 CFR, Part 255 : "Guides Concerning the Use of Endorsements and Testimonials in Advertising.