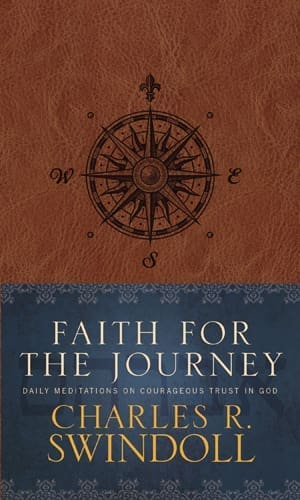 I have been a "fan" of Charles Swindoll since the year 1984. Yes, I do, in fact, remember quite well the year I first heard his radio program. For years now, I have sat and listened to his teaching, taking notes and being encouraged every weekday.
I have read his books absorbing practical insights to my life as he opened up the truth of Scriptures and their application.
Faith for the Journey: Daily Meditations on Courageous Trust in God
is a 30-day devotional book which is sure to bless many. It is bound in a leather like cover and has gold-edged pages making this a special devotional in many ways.
We all need encouragement and Scriptures when life gets challenging. Whether it is a job loss, relational struggles, finances, or a medical emergency, we need help to be courageous and keep trusting God.
Using the life of Abraham, Charles Swindoll shares insights as to how we can trust God when we may not have any idea where He is leading us. He challenges us to trust that God will remain faithful to His promises.
Each devotional has quotes, a short reflection and Scriptures which are sure to inspire and build trust in our God Who holds each of our lives in His very capable hands. This devotional is beautiful both in word and appearance and would make a wonderful gift sure to be treasured for many years.
**Tyndale House Publishers provided me with a complimentary copy of this book in exchange for my honest review.
Today I am joining … Booknificent Thursday .