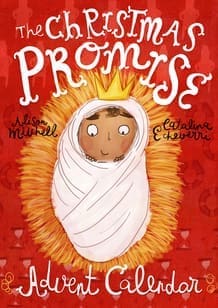 The Christmas Promise
by Alison Mitchell is a beautiful book retelling the story of Christ's birth. The Good Book Company publishes quality books for children both in text and pictures. This book is no exception.
The book opens with a promise given – a promise of a new King! Throughout the telling of this familiar story, the truth that this would be no ordinary King is stressed repeatedly.
Through the journey – of Joseph's dream, the travel to Bethlehem, the shepherds and the wise men – the message continues of a new King, a promise given and fulfilled. Children will hear and learn the truth of the Savior's birth, More importantly, they will learn our God is faithful to His promises.
The illustrations are colorful, depicting the birth of Christ in precious graphics which will further draw children to listen. There is a beauty in the simplicity of the pages done by Catalina Echeverri. She has included details even in the foreground which are sure to prompt any child's curiosity.
The book's closing pages shares the name of the New King – "Jesus!" – boldly with the opposite page depicting scenes which encapsulate His life and purpose.
I highly recommend this book for parents to read with their children during the Christmas season. This is a wonderful book to also use in church children's ministries and is sure to delight children for many years.
Check out the trailer …
[youtube https://www.youtube.com/watch?v=z9H8eBHJM_Q?rel=0&w=560&h=315]
***I received this book from The Good Book Company via Cross Focused Reviews for this review. I was not required to write a positive review. The opinions I have expressed are my own. I am disclosing this in accordance with the Federal Trade Commission's 16 CFR, Part 255 : "Guides Concerning the Use of Endorsements and Testimonials in Advertising."
I am joining … Booknificent Thursday .