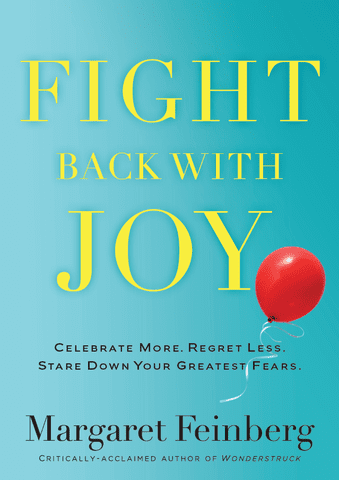 Joy.
The very word is thrown around as a goal to achieve, an attribute to display, an inspiration on a plaque or pillow. Yet many of us find joy difficult to understand and at times, harder to find.
Fight Back With Joy, by Margaret Feinberg, is a transparent and vulnerable story of a woman's battle to maintain joy throughout a difficult diagnosis. Margaret shares her journey through her discovery, diagnosis, treatment and surgery exposing all of her doubts, her fears, her joys, and her tears. She holds nothing back.
Yes, this is a book about cancer but truly no matter what difficult circumstance we may find ourselves, we all will find ourselves challenged to practice defiant joy.
Cancer is more than a diagnosis. It is a journey one takes along with a surgeon, an oncologist, lab technicians, family and friends. It takes each patient on twists and turns one cannot fathom nor ever want to experience. Margaret openly discusses her decision to go through this journey with joy and laughter desiring to overcome the pain and the darkness which accompany each day.
Margaret turns to Scripture to uncover all she could about joy for this journey. She shares those Scriptures which uncover God's character and His promises to be with each of us, no matter what we may face.
Today I have the joy of sharing the rest of this post with my friends at Circles of Faith. I hope you will join us by clicking here to continue.
I am joining … Fellowship Fridays and Dance With Jesus and Grace & Truth and Faith & Fellowship and The Book Nook and Booknificent Thursdays and Literacy Musing Mondays and Cozy Reading Spot .