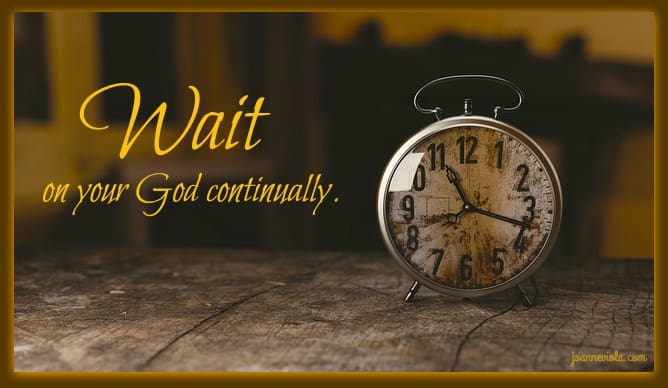 I am not sure how well (meaning with excellence) each of you wait but waiting well (with excellence) doesn't come easily to me. I'm able to wait, and patiently at that, for a time and then I want to move things along. Impatience can set in. Please tell me I am not alone in this. Please???
"So you, by the help of your God, return; observe mercy and justice. And wait on your God continually." (Hosea 12:6, NLT)
Waiting can sometimes feel like inactivity.
But here is what hit me: We are to wait on our God continually. The wording is such that it is written in the verb tense indicating this is to be something we are doing presently, actively and continually, without ceasing.
Waiting is hard because we give up on waiting. Yet our God never gives up on us. To wait well (with excellence) means I need to be changed to be more like Him. Transformation needs to take place in my life.
Waiting also becomes easier when I accept that while I may be inactive, God is busy working on my behalf. He is continuing to work in circumstances, even when I may not see the results as of yet. He has promised:
"And we know that God causes everything to work together for the good of those who love God and are called according to his purpose for them." (Romans 8:28, NLT)
He has promised to work in our lives. It is a continuing operation each and every day of our lives.
While waiting can appear to be inactivity, we are actually doing something –
We are choosing to actively wait on our God who is actively at work.
Do you wait well (with excellence)?
At this time in your life, what are you waiting on God for or to do?
Don't give up.
Wait.
Wait with excellence.
Today I am joining … Three Word Wednesday and Coffee For Your Heart and Tell His Story and Women With Intention .

In My Thoughts,
Joanne