"For I know the plans I have for you," says the Lord. "They are plans for good and not for disaster, to give you a future and a hope." (Jeremiah 29:11, NLT)
To have three books to share about in one week is both rare and a gift. The timing of them was spaced out, permitting me the time to read them in their entirety, savoring the words before me each day.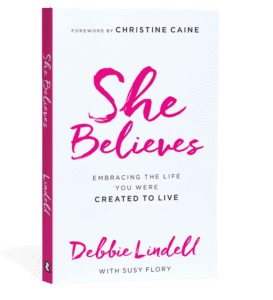 We know that God has plans for our lives. Each day perfectly ordained by Him and set for a purpose.
Yet often we fail to believe, live, and act on the very truth we know.
In her book, She Believes, author Debbie Lindell seeks to help each reader to embrace the life for which we were created by God to live. She writes in an easy to read and conversational style so that we feel like every word was written personally for us.
The five sections cover critical truths we believe regarding ourselves:
Believing .. You Were Designed on Purpose. The truth is we have been designed with intention, for a purpose, and our story matters.
Believing … Changes Your Heart. We need faith to ignite our prayers with power and live wisely.
Believing … Affects Your Mind and Spirit. We get to choose the attitude we will take towards life, circumstances, and others.
Believing … Makes Being Together Even Better. Our need for relationship, companionship, and those to share our lives with is real.
Believing … Is For Your Future. God has placed dreams in each of our hearts and it will take faith and hope in Him to make them possible.
Each chapter is rich with Scriptures and a closing prayer to help deeply embed God's truth in our hearts and minds, therefore, enabling us to embrace our identity in Christ.
"It is obvious to me that Satan wants each one of us to feel insufficient, and he will do whatever he can to keep us from understanding and believing that we are in every way uniquely, perfectly, and beautifully designed by God." (from She Believes by Debbie Lindell)
We need to rewire our thoughts to include these truths:
"Jesus can take the broken parts of any story and make them whole by his grace."
"When you are following Jesus, no matter where you go, you will never be lost."
"Peace is not found in a life void of the noise and chaos. It is when, at the center of everything, there is a calm and quiet soul."
"Connections are beautiful opportunities just waiting to happen."
"God can do anything, you know – far more than you could ever imagine or guess or request in your wildest dreams!" (Ephesians 3:20)
This is a wonderful book especially for young women and/or new believers. Each chapter shares truths which are sure to encourage women to journey life with Christ as they embrace the truth that "He is calling us to a new level of faith – to believe what we believe and live it out loud for all the world to see."
** An Advanced Reading Copy of this book was provided in exchange for my honest review.
Today I am joining … Three Word Wednesday and Coffee For Your Heart and Tell His Story and Women With Intention .