At the start of the new year, I began to slowly read the Gospel of Mark in a desire to learn about the people who were first hand recipients of the compassion and miracles of Jesus.
Bible Studies on Mark by William Boekenstein has been a wonderful resource to add to my study of Mark.
The author explains the importance of studying the Gospels:
It is critically important for us to keep our eyes focused on Jesus. One of the best ways to do so is to spend some time in the Gospels.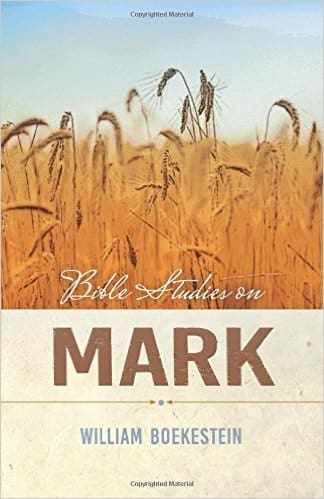 He goes on to share three points on the Gospels:
The Gospels are narratives. They tell a story and also invite us into the story. His story.
The Gospels are prophetic fulfillment. The Gospels draw from the words of the Old Testament thus beautifully confirming every word written has been and will be fulfilled.
The Gospels are Good News. They are the announcement of the greatest story ever told to man.
Each chapter is explained clearly, providing insights which are easily grasped, making this a great resource for the everyday person and use. The author used illustrations from everyday life which any reader can relate, making application of the Scripture easier in one's personal life.
Questions are also provided at the end of each chapter to deepen one's personal study or for a group discussion.
The Gospel of Mark is a short Gospel and can be often overlooked. This author kept his focus on Christ and His ministry which reminded me to give Him my all and keep my life centered upon Him. This is a resource which I will refer to often.
** I received this book in exchange for my review via Cross Focused Reviews. The opinions I have expressed are my own. I am disclosing this in accordance with the Federal Trade Commission's 16 CFR, Part 255 : "Guides Concerning the Use of Endorsements and Testimonials in Advertising." This post contains an affiliate link.
Today I am joining … Moments of Hope and Soul Survival and Booknificent Thursday .