The Five Minute Friday prompt this week is … Connect. You can click at the bottom of this post to get to Kate Motaung's site and read all that has been shared on this topic.
The word brings a smile as I remember the recent night – New Year's Eve. My granddaughter had been asking about doing a sleepover during school break. The idea came like a flash somewhere in the middle of the month of December – Why not do a big sleepover? Like everyone on New Year's Eve? Let's build a memory.
And so the idea was birthed.
Asking each of the adults, I found they were all in. All that was left to do was figuring out where and how we all would sleep so that perhaps, just perhaps, a tad bit of sleep would be had.
During the earlier part of the night, the plan was shared with the grands and eight year old Sophia began to ask me to come sleep in her room. I quietly whispered to her that I would, trying to assure her she would see me in the morning in her bed.
When it was time for her to go to sleep, we moved her pillow to one side of the twin bed leaving room for me to come in with my pillow after midnight.
Later on, as I slipped in and turned on my side, a soft voice was heard saying, "Good Night, Mimi. Mimi, you're the best. You really did it."
We talked and giggled a few times during the night and woke early in the morning to talk and laughed even more. A few selfies took place, too, while I was unaware …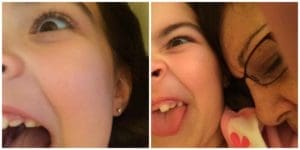 The prompt brought back the memory and a lesson:
"Above all, my brothers, do not swear – not by heaven or by earth or by anything else. Let your "Yes" be yes, and your "No" no, or you will be condemned." (James 5:12, NIV)
Connect, as defined by dictionary.com means "to join, link, or fasten together; unite or bind."
May our words and our actions connect.
May we be a people who say what we mean and mean what we say.
Today I am joining … Five Minute Friday and Faith Filled Friday and Faith "˜N Friends and #DanceWithJesus .