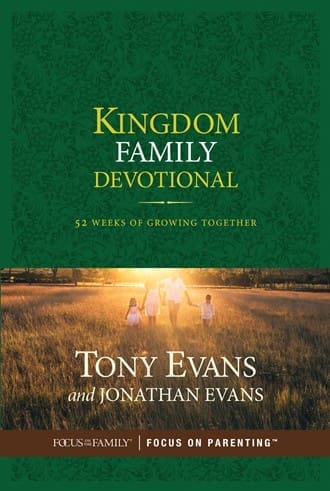 I am always on the lookout for a new devotional and/or resources for young families. Seeing the opportunity to read a book which blends both, I requested a copy.
Kingdom Family Devotional by Tony Evans and his son, Jonathan Evans, provides families with a devotional tool to help build a stronger spiritual foundation.
The book has 52 different themes, one for each week of the year, and a guided devotional reading for Mondays through Fridays.
Each devotional starts with a Scripture reading that reinforces the theme of the week. A few of the themes which are included are Respect, Purity, Salvation, Friends, Integrity,Teamwork, Unity, and Wisdom. All of these are important in developing the character and spiritual foundation in our children.
Each theme has a story or an analogy to share which will help children of all ages to grasp the concept. There are questions to ask to prompt discussion following the readings. Included in some weeks is a service project which can be done as a family or by the individual children. Each week always includes a memory verse to learn as a family.
The authors explain their hopes for the book:
One of the best and most natural times to use these devotions is around the dinner table with the TV off and smart phones set aside. Having a concentrated time for the family to focus on God and one another is critical if we're going to overcome the secular, godless influences that are engulfing our children and drawing them away from the faith. (from the introduction)
We truly cannot leave the spiritual development of our children to chance. In this misguided and shifting world, the responsibility falls upon we as parents and their family.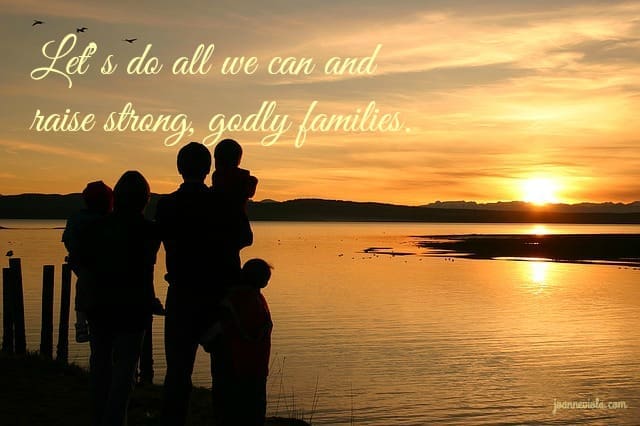 May we take the time to raise children who will learn to love God, pursue Him, and live under His authority  all of their lives. And may it begin while they are young.
"Your children will be like vigorous young olive trees as they sit around your table." (Psalm 128:3, NLT)
Let's do all we can
and raise strong, godly families.
***Tyndale House Publishers provided me with a complimentary copy of this book in exchange for my honest review. I am disclosing this as required by Federal Trade Commission.
Today I am joining … Three Word Wednesday and Tell His Story and Coffee For Your Heart and Woman to Woman and Booknificent Thursdays .