My children are now grown and have children of their own. In a world that is quickly changing and in which truth is often convoluted, I was excited when my friend, Susan Chamberlain Shipe, shared she was writing a devotional for children.
In her devotional titled, 52 Commands of Jesus for Children, Susan focuses on the commands of  Jesus. Each weekly devotional includes a Bible teaching with a Scripture, questions for discussion, an action point, and a coloring page. The book would be ideal for children ages 5-12 but in my opinion, would also work with older kids (to age 14) with some creativity from the parent or teacher.
The book is written in an easy approach for both adults and children. Each teaching is a simple and gently presentation of the commands of Jesus which children will easily understand and embrace. She provides questions to further discuss the principles and made for lively conversation with my two granddaughters, aged 9 and 5.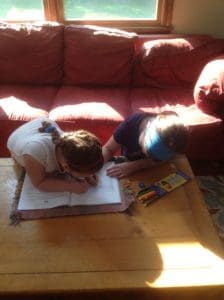 Each command is paired with a character quality to be focused upon and developed in the minds and lives of your children. To instill and develop these godly qualities should be the goal of our parenting. This book provides a wonderful way to begin, and then build upon, each truth. Suggestions and ideas for discussion are provided in italics, making it easier for parents to engage their children.
This is a wonderful resource for parents, and churches, to use as each lesson comes complete. There are also additional coloring pages available:Â  https://hopehearthome.com/52-commands-of-jesus-for-children/
GIVEAWAY: Now here is the best part – – – Susan has offered a copy of this book to one of my readers. She is so gracious, the book may just come with some colored pencils and goodies! All you need to do to enter this giveaway is leave a comment stating how you will use the book – with your own children, grandchildren, or at church. Easy! I will pick one of you on Friday using random.org.
6/16/17: The winner has been selected using random.org and contacted by email. Thank you each for entering!
You can connect with Susan in these places:
Blog: https://hopehearthome.com/
Facebook: https://www.facebook.com/HopeHeartHome/
Twitter: https://twitter.com/Hopeful50
**I was given a copy of this book in exchange for my honest review.
Today I am joining … #DreamTogether and Moments of Hope and Soul Survival .