One never knows when a lesson may pop up right in front before your eyes. Such was the case recently at Jocelyn's birthday party with her friends. I watched as she and her friends bounced, jumped, and climbed their way through the various bouncing stations.
Several of them had difficulty climbing up one of the steeper ladders until we began to yell to them where to position their feet. Once positioned, we began to encourage them,  "Hold on!" "Keep going!" "You can do it!"
"Take the next step!"
Those three words, unfolded the lesson –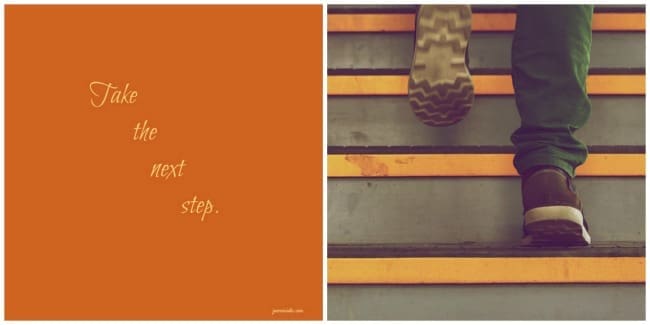 No one finds their dreams fulfilled without experiencing the daily struggles.
Dreams are achieved one step at a time. One day at a time.
We need to stick it out with the persistence of gum on a shoe, or a toddler climbing a ladder.
It is sort of like this diet I have been on. At today's weigh in, I was down 1.4 pounds. It may not sound like much but it builds on the weight loss from the week before, and the week before that one. Progress is made as we go. The cumulative result is what will count in the long run.
"For we live by believing and not by seeing." (2 Corinthians 5:7, NLT)
We live, and take each step, by faith – believing that as we go, we will see the results as God works it all out in our lives.
Each step requires obedience, taking the instructions God gives to us each day. Much the way the children had to hear our voices telling them where to place their feet to continue their climb, God will instruct us as we go.
"The Lord directs the steps of the godly. He delights in every detail of their lives."
(Psalm 37:23, NLT)
David knew that God delighted in the way of those who placed their trust in Him. God makes the way clear and firm, even when the way seems difficult and impossible.
President Woodrow Wilson once stated, "I had rather temporarily fail in a cause that will ultimately succeed than temporarily succeed in a cause that will ultimately fail."

(as quoted in The Holman Old Testament Commentary, Volume 11, page 201)
We need to take the long look, knowing success comes one step at a time.
Success is the culmination of many right choices made one day at a time.
May we take the next step as He directs.
Today I am joining … #ChasingCommunity and Heart Encouragement Thursday and Tune In Thursday and Salt & Light .