At times,  we can find ourselves at a point where we desire to live better and love God more deeply. We long to speak with Him and hear from Him.
Our prayer time was not intended to be a time we solely present our needs to God but is meant to be how we draw closer to God. Yet many of us struggle with prayer.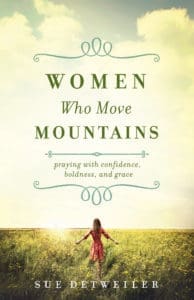 In her book, Women Who Move Mountains, Sue Detweiler hopes to show us how to a place of intimacy and surrender to God through the simple act of prayer.
"Every journey has a beginning. The starting point of prayer is God. Like a father who waits to hear every detail of your life, He waits for you. You don't need to get dressed up and go to church to reverently pray. The God of the universe invites you to come as you are.

As you come close to God in prayer, He brings purpose even from the brokenness of your life. You can't remain downcast when you turn your face upward to God."

(from the introduction, Women Who Move Mountains by Sue Detweiler, page 17)
The book is has two parts. Part One encourages readers to transform our relationship with God. In this section, she give prayer principles based on God's Word and examples of women who have moved mountains in prayer. There are questions to journal and journal pages can be downloaded at www.SueDetweiler.com. There are also group questions which make this an excellent resource for group Bible Study.
Part Two is a 21 Day guide to help readers spend 21 days reflecting, praying, and listening to God. Each day contains a journal question, Scripture to think on, a short devotional, a prayer, and a declaration to solidify God's truth in our lives.
I found the book to be easy to read, enjoy, and understand. The book is encouraging and infuses a desire to pray more, to pray effectively, and to spend time in God's Word. This is a book that will get one started on a journey of prayer. But it is also an excellent book to light a spark in a prayer life that may just be stuck for a bit. This is a book for us all no matter what season of life we may find ourselves.
"Even when it seems like nothing is happening in your life, you are being transformed. Your character is becoming more like Christ. The fuel of this transformation is your prayers and the prayers of those who love you. Your prayers are changing lives. The first life that is being changed is yours! (from page 192)
"For we live by believing and not by seeing." (2 Corinthians 5:7, NLT)
About The Author:
Sue Detweiler is a wife, mother of six, author, radio host, and pastor with more than 25 years' experience in leadership, ministry, and education. She is also a popular speaker who shares her heart and wisdom internationally on issues related to marriage, family, women, prayer, leadership, and ministry. Sue and her husband, Wayne, have recently relocated to Frisco, Texas, to plant Life Bridge Church north of Dallas. You can connect with her on her blog HERE.
*** I received a copy of this book from Bethany House Publishers in exchange for my honest review. This post contains an affiliate link.
Today I am joining … #RaRaLinkup .