It was a hard decision and had been made with much thought, research, and tears. It had taken us time to sort through all the contributing factors in order to be as wise as one can possibly be.
We lay in bed with our fingers intertwined, side by side, the darkness enveloping us. The stillness seemed even thicker than the darkness. My whisper broke the stillness one last time, "I am not sure this is going to work out."
More deafening quiet. The stillness can be so loud in those moments of indecision.
He finally whispered back …
"Why do you have so much faith for _______ but for this you have so little?"
I had no answer to the convicting question. Why indeed?
After a few minutes, he added, "This will work out too. Now try to get some sleep."
Throughout the long process, I had often prayed, asking the Lord to make me smarter than I was in my own ability:
"If you need wisdom, ask our generous God, and he will give it to you. He will not rebuke you for asking." (James 1:5, NLT)
He had surely been faithful to guide me in asking questions, providing answers in surprising ways, always protecting us. He enabled my mind to comprehend those aspects which I had thought to be beyond my understanding.
His still small voice guiding and directing each point of intersection.
Several times He made it clear His answer was, "No," and I would tell my family, "He has something better for us."
So why in the stillness of the night did I find doubt trying to push its way back into my mind?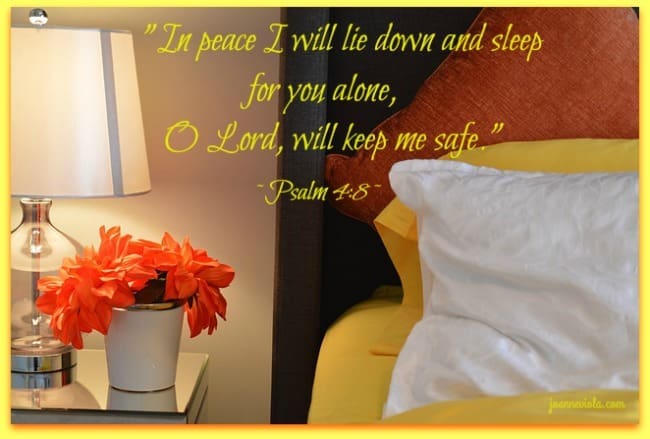 When doubt comes creeping, His Word comes marching in, resolute and bold:
"In peace I will lie down and sleep, for you alone, O Lord, will keep me safe."
(Psalm 4:8, NLT)
Peace comes as does sleep. The morning also comes and with it, His new mercy available for the demands of this day.
Much like the manna which the Israelites gathered daily, His mercy is also fresh and new and abundantly available each morning.
The nudge comes gently, yet authoritatively, to open my Bible and I read the words before me:
"But when you ask him, be sure that your faith is in God alone." (James 1:6, NLT)
And there it is – the words and assurance so needed.
We do not, and are not, to have faith in man or in ourselves. Our faith is in God alone. And just like that, I begin to hear the words and music filling my heart and mind:
"In Christ alone my hope is found
He is my light, my strength, my song
This Cornerstone, this solid ground
Firm through the fiercest drought and storm
What heights of love, what depths of peace
When fears are stilled, when strivings cease
My Comforter, my All in All
Here in the love of Christ I stand."

(from the hymn, In Christ Alone)
Today I am joining … #RaRaLInkup and TrekkingThru the Week and Teaching What Is Good .