Reading in Genesis, one soon becomes aware of the importance of names. There are names given. Names changed. And name calling. But one recent reading in Genesis prompted me to think deeply on names, reputation, and legacy.
Let's return to the night of Jacob's wrestling match (found in Genesis 32:22-32) …
On his return home, knowing he would encounter his brother whom he had cheated, Jacob wrestled with a man in the middle of the night until the break of dawn. Only when it became apparent to the man that he could not win the match, did he tell Jacob to let him go.
But Jacob was determined and responded that he would not let go until the man had blessed him.
Jacob. His very name meant "supplanter" and he had lived up to his name, his reputation, in depriving his brother of his firstborn rights.
But now, in the midst of this wrestling match, he receives a name change. He becomes "Israel" because he had fought with God and with men and had won. He had overcome great obstacles and prevailed to obtain blessing.
One's reputation is "the estimation in which a person is held" (dictionary.com). It is the name by which he is recognized. The position one holds in the opinions of others.
Legacy however, is that which is handed down. It is an inheritance.  But here is the important aspect of both:
Our reputation is not the same thing as our legacy.
A reputation we earn for ourselves. A legacy is given to us. God is in the name changing business and He is looking to give us a legacy. His desire is to change our reputations.
Jacob – Israel – the father of the sons who would comprise the beginning of the nation of Israel's growth. God's people.
God changed Jacob's name, and his reputation, and gave him a legacy.
May we let Him do the same for us.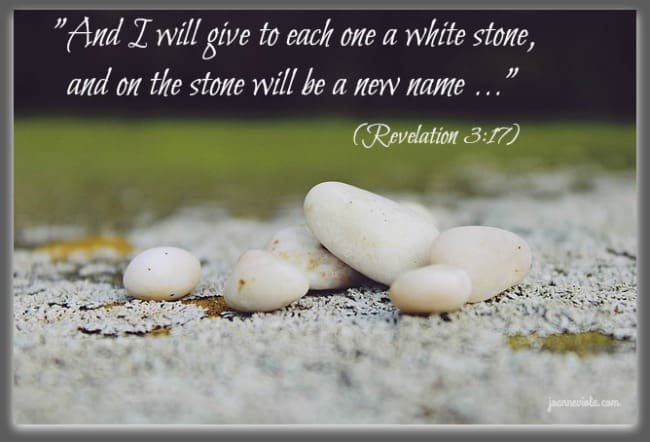 "Anyone with ears to hear must listen to the Spirit and understand what he is saying to the churches. To everyone who is victorious I will some of the manna that has been hidden away in heaven. And I will give to each one a white stone, and on the stone will be engraved a new name that no one understands except the one who receives it." (Revelation 3:17, NLT)
Today I am joining … #DreamTogether and Moments of Hope and Soul Survival and Inspire Me Monday .