In my quest to be healthier, I picked up The Wellness Revelation by Alisa Keeton to find this book was much different than a book about weight loss.
"How would your life be different if you could lose what's weighing you down and be free to live the life you were created for?"
~ Alisa Keeton
Now she had me hook, line, and sinker as I desire to live both healthy and free.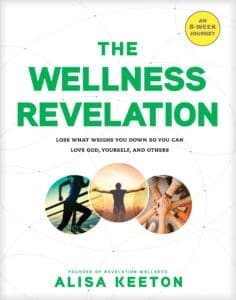 The book is an eight week journey, yes, a Bible study, to lead us to fulfilling our purpose here on earth. As a health fitness instructor, she shares not only from her fitness experience but from her own spiritual journey with Christ and His Word.
Often the emotions and circumstances of our lives weigh us down causing us to turn towards food and the neglect of our bodies. It is as we change our perceptions of ourselves and begin to see ourselves as God sees us, that we are able to find freedom from being weighted down.
It is an eight week study in which we learn the living and practical truths of being healthy in our heart, our , our strength, and in our mind. We find ourselves being pointed to love others as we love ourselves.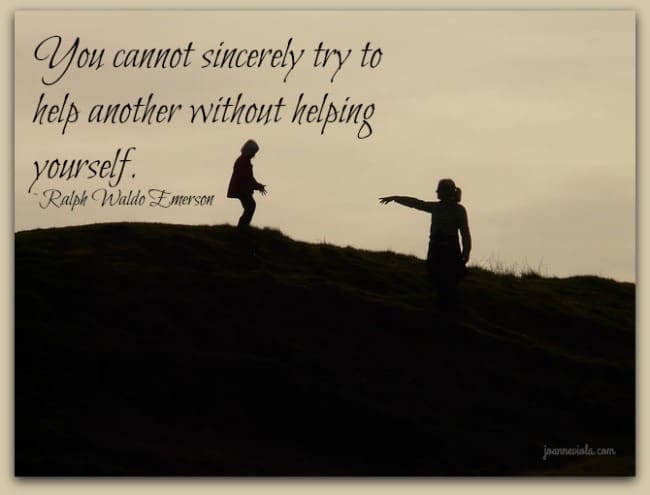 Each page brings the reminder to love like Jesus –
Ralph Waldo Emerson is quoted as saying, "It is one of the most beautiful compensations of this life that you cannot sincerely try to help another without helping yourself." I couldn't agree more. That is the way of the gospel. You cannot outgive God's love. Giving helps you and me to be less self-absorbed; the more we spend ourselves on others, the more we receive so we can once again give it away. Even Jesus Himself said He didn't come to be served but to serve (see Matthew 20:28). Let's model our hearts after Christ's, opening them to continually receive and give away His love.
(from the introduction, page xix)
Each week readers will find themselves working through the following sections:
Reading – a devotional.
Respond – by studying Scriptures and answering questions.
Renew – through prayer,
Relate – the practical application to their personal lives.
Reciprocate – stories and testimonies.
While I have not yet finished the entire book, I am finding myself challenged and appreciating the wisdom found on each page. I would recommend this book for both individual study although it would be wonderful for a group study as well.
This book is a workbook journey of transformation. We will find ourselves becoming healthier as we love God, first and foremost, get our bodies healthier, and then serve others. Her style of writing was comfortable and conversational, never cumbersome. Alisa Keeton challenges us to approach our health, fitness and weight loss goals in a new and godly way.
** In exchange for my honest review, Tyndale House Publishers provided me with a complimentary copy of this book.
Today I am joining … #ChasingCommunity and Tune In Thursday and Salt & Light and Heart Encouragement Thursday and Booknificent Thursday .