One of the many joys received from blogging is the connections which can be formed without having ever met face to face. I am not exactly sure how my path crossed with the friend I am going to introduce today. But I do know that her journey through adoption and faith have blessed and encouraged me deeply.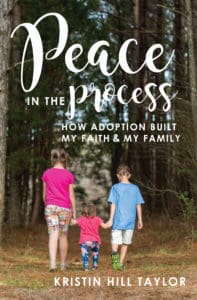 Kristin is sharing her story in her updated book, Peace in the Process: How Adoption Built My Faith & My Family. It's the story of God's faithfulness through a season of infertility, three adoption processes, and the days since.
This second edition of "Peace in the Process" includes contributions from other adoptive moms, her children's birth moms, and resources for families who want to grow through adoption and the people who support them. The book is sure to encourage and delight every mom, and truly every reader who discovers that life does not always go according to our own plans.
I will let Kristin share a bit in her own words …
---
---
Here I was a mom of three kids, and one word rocked my world. One word shifted my perspective: Ambassador.
It jumped out at me when I was working through a Sermon on the Mount study the fall my kids were nine, seven, and one. I was reading about being peacemakers when the study took us to some verses from Second Corinthians. Of course, my mind went to parenting.
"Therefore, if anyone is in Christ, the new creation has come: The old has gone, the new is here! All this is from God, who reconciled us to himself through Christ and gave us the ministry of reconciliation: that God was reconciling the world to himself in Christ, not counting people's sins against them. And he has committed to us the message of reconciliation. We are therefore Christ's ambassadors, as though God were making his appeal through us. We implore you on Christ's behalf: Be reconciled to God. God made him who had no sin to be sin for us, so that in him we might become the righteousness of God" (2 Corinthians 5:17-21).
I was dwelling on the fact I'm a representative of Christ to my children as I went about life one day in the fall of 2016, which happened to be a hard one. Disappointments and inconveniences filled that day.
While waiting for my kids at the bus stop that October day, I finally opened "Parenting: 14 Gospel Principles That Can Radically Change Your Family" by Paul David Tripp because I had said I would read and review it on my blog. The deadline was approaching and I needed to get started. If I'm honest, I procrastinated reading it because the subtitle sounded just like something I needed. And change is hard.
AMBASSADOR. It was the first word in the whole book, the title of the introduction. Four pages in, and I was crying. I was grieving and dealing with conviction and rejoicing with hope.
I couldn't even finish the introduction in that sitting because I had to digest this more: My kids don't belong to me, but I'm Christ's ambassador to them. I know, it's probably not even a new concept to most Christ-followers, but it was striking me in a fresh way I still can't shake.
Because of my emotions and revelations, I needed a couple days to get through the introduction of Paul David Tripp's book, but the shift in perspective was exactly what I've needed to be a better wife and mom.
Tripp starts the book writing about the differences between ownership and ambassadorial parenting. Basically, our human default is to treat our families as possessions. It doesn't seem bad because we talk about the good things we want for and from our children. We talk about goals and hopes and dreams we have for these people we love. But we get really caught up in producing those things by ourselves.
We leave out the One who truly creates families.
Ambassadors faithfully represent the message, methods, and character of another leader "" in our case, Jesus.
I've always given credit to God for creating our family through adoption, but thinking about how I don't own my family and need to be a representative of Christ to them rocked my world.
In a matter of days, this concept made my life harder and easier in the same moment. It gave me focus and convicted my heart. It slowed me down and helped me see beyond the daily frustrations of dirty floors and a never-ending to do list.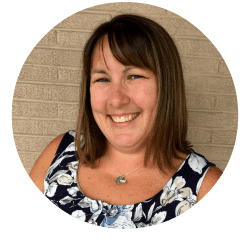 This is an excerpt from Kristin Hill Taylor's book "Peace in the Process: How Adoption Built My Faith & My Family," which is available at Amazon. Kristin believes in seeking God as the author of every story and loves swapping these stories with friends on her porch. She lives in Murray, Kentucky, with her husband and three kids and shares stories at kristinhilltaylor.com.
Today I am joining … #ChasingCommunity and Tune In Thursday and Salt & Light and Heart Encouragement Thursday and Booknificent Thursday .