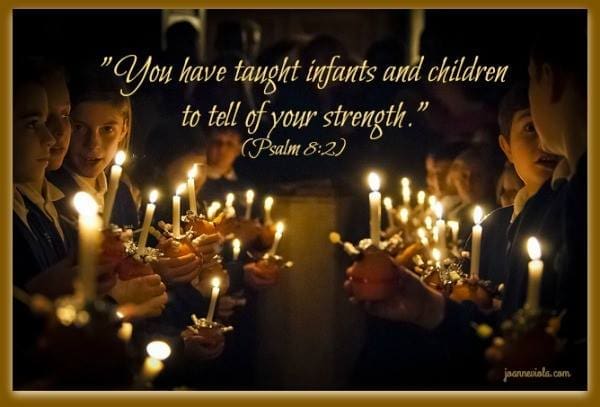 Is there anything as precious as the children's Christmas plays we attend each year?
The children come dressed in their finest. Little girls with velvet dresses in Christmas colors and the boys in slacks and vests, some even sporting little bow ties. Even if they are not ours, we smile and love their actions, facial expressions, and small precious mistakes.
In reading Psalm 8 recently, I found this nugget of truth in verse 2:
"You have taught children and infants to tell of your strength, silencing your enemies and all who oppose you."
We are told He Himself will teach us, from a young age, to tell of His strength. This revealed to me the very reason we find children's plays so moving.
God uses the weak, the defenseless, the dependent, and the innocent to be a display of His power, thus silencing our enemies. From the very lips of children, He ordains praise which can silence the strongest foe.
The Bible cross reference brought me to Matthew 21:16 where Jesus Himself mentions this verse. He Himself welcomed children and delighted in their exuberant faith, joyful praise, and teachable spirits.
As I read the passage, I found myself asking this question …
What is my life lacking this morning? Is it exuberant faith? Joyful praise? Or a teachable spirit?
May God restore to each of us that which we are lacking so we can embrace the fullness of this Christmas.
Today I am joining … #ChasingCommunity and Heart Encouragement Thursday and Tune In Thursday .