A few months ago, we were given some bamboo shoots. They were green and lush; tall and beautiful. And without roots.
Not knowing what to do with them, I did what every 'horticulturist' would do – I googled.
Discovering they can grow in either water or stone, I decided to go the water route. Various sites suggested once a method is selected to stay with it as they won't do as well with a change.
Its been a journey of both curiosity and delight to watch the growth. Their root system has developed from non-existent to a winding cluster.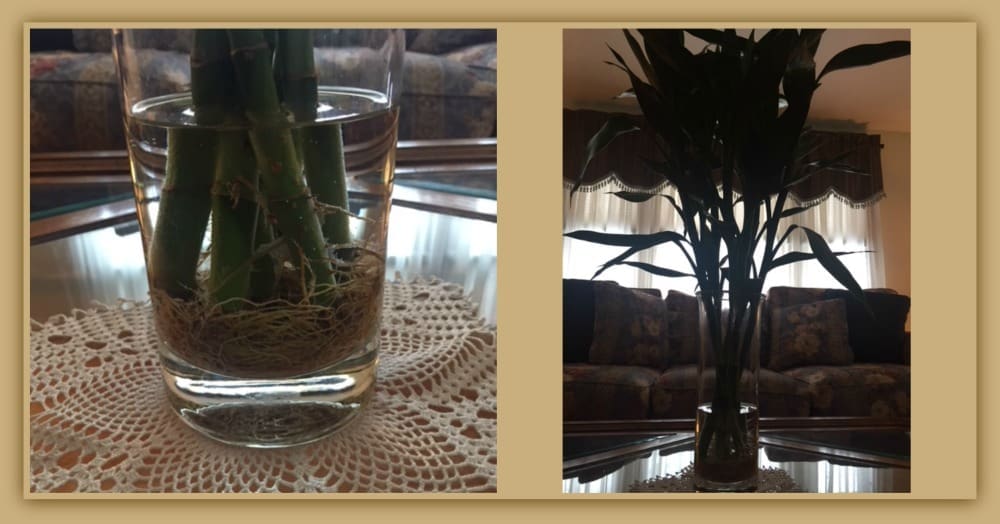 Recently I read these verses hidden in Hosea 14:
"I will be to Israel like a refreshing dew from heaven. Israel will blossom like a lily; it will send roots deep into the soil like the cedars in Lebanon. Its branches will spread out like beautiful olive trees, as fragrant as the cedars of Lebanon." (verse 5-6, NLT)
A few days after reading those verses, Watchman Nee shed light with his beautiful insight:
Here surely is the paradox of a life in which the Cross is known. Outwardly it is fragile as the lily blooming on earth, but secretly there is a hundred times more below ground …

… Men take account only of the lily blooming in its weakness. God is concerned with the roots, that they be cedarlike in strength.

(from Tables in the Wilderness, January 30th)
Lilies grow tall and thin. I tend to plant them where they will be sheltered, fearful the wind will bend them over, or worse yet, break them. I have often thought of them as fragile.
It is not what is seen, but what is unseen, which is indicative of strength.
When we look solely at the surface or appearance, we completely overlook the depth of beauty, strength, and courage hidden underneath. There is an unseen history with God, working in the shadows, strengthening and girding.
Our lives may seem fragile and weak as the lily,
but with Him –
become strong and stable like the majestic cedars in Lebanon.
Today I am joining … Porch Stories and Tell His Story and Coffee For Your Heart and Woman to Woman .