In this fourth and last week of looking at the topic of hope, we uncovered this truth …
Hope grows our roots deep, making us courageous to meet each day.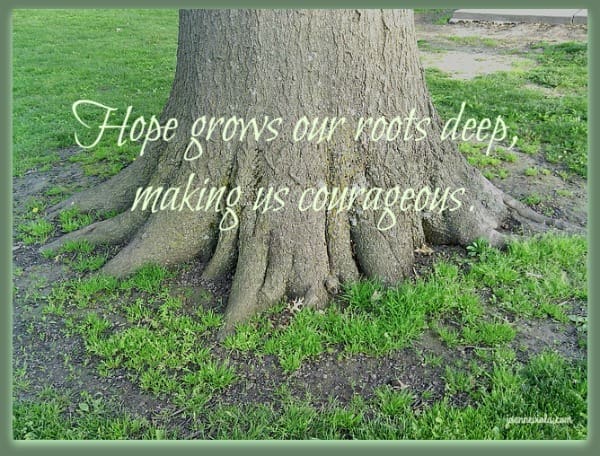 God's Word imparts hope. As we read God's Word, no matter what we are facing, or the circumstances in our lives, or the need pressing on our hearts – – we can find hope in His Word. His Word breathes into us all that we need to hold onto Him. "I am counting on the Lord; yes, I am counting on him! I have put my hope in his word" (Psalm 130:5, NLT). This verse gives us the very reason we cannot afford to let days go by without reading Scripture. We need a steady diet for our hope to stay strong and steady. God's Word keeps our hope alive.
We can hope today. Our hope is in view of our Savior's promised return — and IN His promises until He returns. "… while we look forward with hope to that wonderful day when the glory of our great God and Savior, Jesus Christ will be revealed" (Titus 2:13, NLT).

We live now looking forward with hope to Jesus appearing. Now. In our present situation. Where are we hoping for Jesus to appear today?

We can hope in our inheritance. "I say to myself, "The Lord is my inheritance; therefore, I will hope in him!" (Lamentations 3:24, NLT). This verse reminds us of God's truth, faithfulness and trustworthiness. We know this in our heads, but we need to get our hearts to believe this every day. An inheritance belongs to you. It is something already given and is there and available to the person. God Himself is our inheritance. The KJV uses the word "portion", bringing to mind the manna which was available to God's people in the wilderness.  He is your portion. He will be ALL that you need TODAY.
Trust and hope go hand in hand. "But blessed are those who trust in the Lord and have made the Lord their hope and confidence"  (Jeremiah 17:7, NLT). Trust in God nourishes our souls, causing our roots to go deep. Trust remembers and recalls, enabling us to go through difficulties with stability and productivity.
Hope produces courage. "So be strong and courageous, all you who put your hope in the Lord!" (Psalm 31:24, NLT). Notice it does not say , "You are courageous". but instead, "so be courageous". It speaks of expectancy. We are to expect the Lord to show up in this moment, where we need hope and therefore, we are courageous. Often we wait to feel courageous to proceed forward. But we can move forward, once God has called us, courageous because our hope is in the Lord who has called us. Hope in the Lord makes us courageous.
So… what are you needing courage to do or face? Hope in the Lord. He will make you more courageous than you ever could be on your own!
This past month of January,  I shared the lessons learned from the devotional "31 Days of Hope" by Susan Chamberlain Shipe.  Here are Week One and Week Two and Week Three . Today was our final post in this series. You can read more about the book on the author's website HERE.
Today I am joining … Trekking Thru the Week and #RaRaLInkup and Teaching What Is Good .