Each Friday my writing stems from a word prompt. Five minutes, one word prompt. The prompt this week is … Why.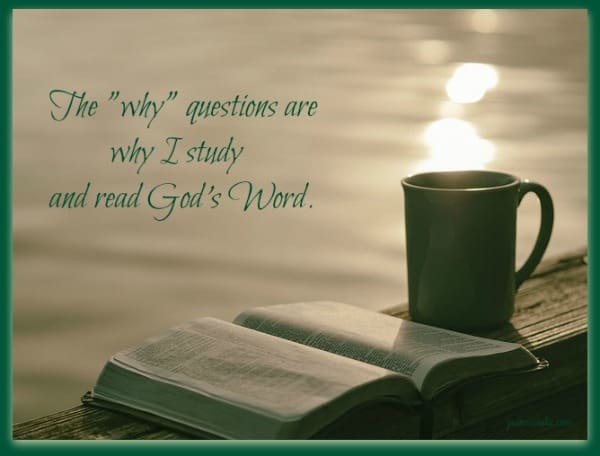 It's a question I have found myself asking again this week … "Why?"
As I watched the news and asked the question, I found myself responding –
The "why" questions are why I study and read God's Word.
It is on the pages of God's written word that we can find hope and peace and comfort. God has given us His word and is faithful to keep every word. His promises reassure us of His Presence in times of difficulty and in the midst of questions.
Out of His great love for us, He has written the words we need for every and all situations. His Word is complete and sufficient for every need. It's all we need to find strength and assurance to carry on.
If you are like me, you may have asked found yourself asking many "Why?" questions this week:
Why did he do this?
Why are people so angry?
Why are people becoming so hate-filled and violent?
Why did no one help him?
May we encourage our hearts and find strength in His Word –
"The Lord is good to those who depend on him, to those who search for him. So it is good to wait quietly for salvation from the Lord."
(Lamentations 3:25-16, NLT)
It's why I study and read God's Word.
Today I am joining … Five Minute Friday and Faith On Fire and Faith 'N Friends .

In My Thoughts,
Joanne