Each Friday my writing stems from a word prompt. Five minutes, one word prompt. The prompt this week is … Adapt.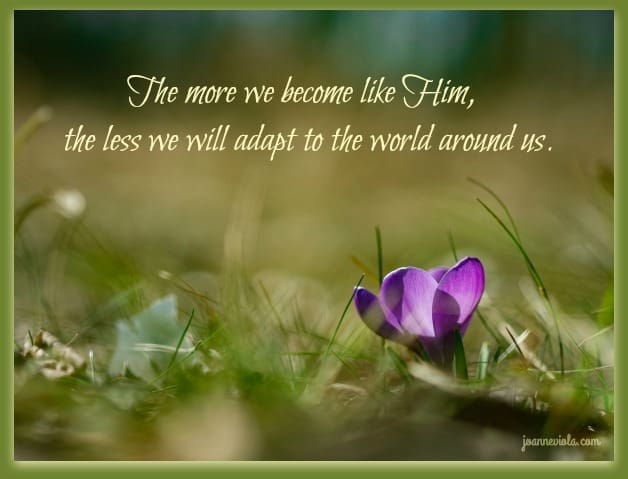 Upon seeing the word, the definition comes to mind of changing to fit in to one's environment. To some extent we must do this in order to live and get along with those around us and whom we encounter on a regular basis. We also adapt to the climate, changing the clothes we wear so that our bodies stay warm and protected, or cool and comfortable.
There is a downside to this word as well which Scripture warns us:
"Do not conform any longer to the pattern of this world, but be transformed by the renewing of your mind." (Romans 12:2, NIV)
We are not to adapt – become adjusted to, or adjust oneself to the world. We are to let God do the work of transformation in our hearts and minds. In this way, rather than adapting the ways of our environment and society, our hearts and minds become enmeshed with His, becoming more and more like Him.
Scripture reminds us that we are "aliens and strangers in this world" (1 Peter 2:11-12, NIV) and although we live here we are to live differently. We must live with grace, gentleness, and love so as to remain distinct yet desirable. This is the way in which others will see God in our lives and world, and come to acknowledge Him.
The words to an old song comes to mind:
"This world is not my home, I'm just a passing thru,
My treasures are laid up somewhere beyond the blue;
The angels beckon me from Heaven's open door,
And I can't feel at home in this world anymore."

(from the song, This World Is Not My Home)
The more we become like Him,
the less we will adapt to the world around us.