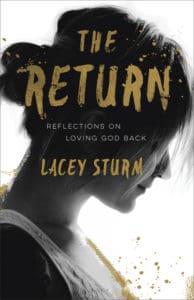 Having never heard of Lacey Sturm, I was not sure what to expect from her latest book, The Return: Reflections of Loving God Back. The book is beautifully filled with reflections, poems, song lyrics, recipes, prayers, and structured Scripture readings.
One will quickly feel like you have stepped into the author's personal journal, making this book a precious read. Every page is transparently and authentically shared from the depths of a soul which is searching for God and for His truth.
The writing is not offered to tell us how to live as much as it is to challenge us to live.
"Life is filled with opportunities to glorify God with our choices …

This will look different for each of us. There are unique challenges for each of us in every season and unique victories for us to claim."

(from pages 10 and 11)
The book is soul-stirring. Truly. The thoughts gently remind us to view each day through the lens of God's wisdom. She inspires us to see that life is beautiful even when it is mundane, and messy, and sometimes dark. But more so, Lacey reminds us the love of God is so strong, He pursues us in spite of ourselves. His love for us is so fierce, we are drawn to love Him more fervently than ever before.
I enjoyed the book, and have started through it a second time, in fact. My desire is to journey through much more slowly this time. I was challenged deeply by her closing thought:
"God is in you.

Don't take the reality and magnitude of this for granted. Having a relationship with God is the most important thing in life. Don't neglect it. Treat it the way you would any relationship …

So let us return to our Creator in our hearts. Let us live in a way that helps return heaven to earth.

"Your kingdom come, your will be done, on earth as it is in heaven" (Matthew 6:10).
** I was provided a copy of this book by Baker Books Bloggers in exchange for my honest review. This post contains an affiliate link.