Each Friday my writing stems from a word prompt. Five minutes, one word prompt. The prompt this week is … Done.

Seeing the word prompt last night, I headed to bed with no intent of writing. But this morning, I find I am yet reflecting on the word.
Done – to be finished, used up, through with, completed.
There are times, I find myself in this state of being done before I am truly done. For as long as we are yet drawing breath, we are not truly done.
The verse kept going through my head all night. How do I know? Because each time I woke up, and it was several times, the words were right there:
"Therefore put on the full armor of God, so that when the day of evil comes, you may be able to stand your ground, and after you have done everything, to stand."
(Ephesians 6:13, NIV)

The question before me is – "Have I done everything?"
And the answer is, "Not yet. Not really."
So I'll keep on, holding onto His promise:
"Let us not become weary in doing good, for at the proper time we will reap a harvest if we do not give up." (Galatians 6:9, NIV)

Faith in God's promises gives us the hope we need to not give up but to see a task through to completion. Helen Keller once said,
"Optimism is the faith that leads to achievement. Nothing can be done without hope and confidence."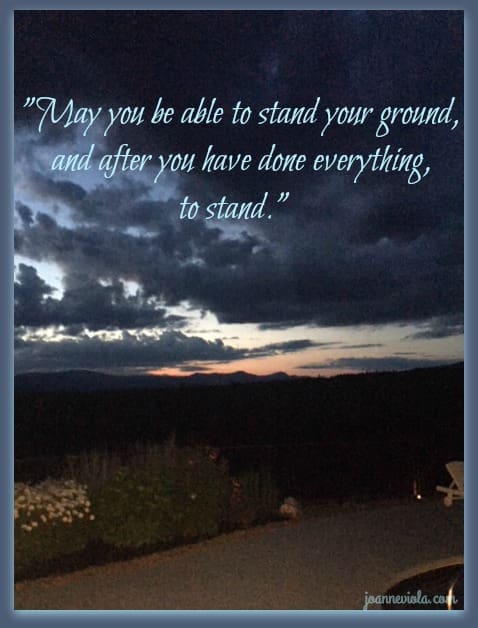 May we not give up.
Do everything we know to do.
And after we have done everything,
stand.
Today I am joining … Five Minute Friday and Faith On Fire and Fresh Market Friday and Faith "˜N Friends  .

In My Thoughts,
Joanne