Hope.
It's been defined as "the feeling that what is wanted can be had or that events will turn out for the best" (according to dictionary.com). As I continue to scroll down through the definitions, I also discover this definition, "a person or thing in which expectations are centered" (from the same source).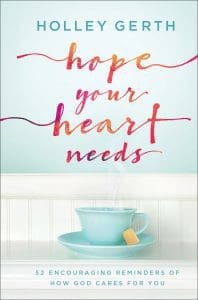 In her latest book, "hope your heart needs", author Holley Gerth brings this reminder from her own search for hope:
"And suddenly I came to a turning point: I realized what my heart needed wasn't a simple answer to a problem. No, I was looking for, longing for, a Person." (from page 10)
We can already know God and like Holley come to discover:
"No matter how much we love him, however deep our faith goes, there is always so much more. This is a wonder and a gift. With every new discovery, our hearts are filled and freed, strengthened and helped, restored and empowered." (from page 11)
And so our journey must begin with understanding Who God is,
His character,
and His deep love for each one of us.
This book delivers 52 reminders which will encourage and infuse your heart with hope. On these pages, you will find yourself hopeful in the One who never changes and is ever faithful.
The chapters are short making this perfect to grab in the moments when strength is needed. It can be used as a devotional, maybe one reading a week as there are 52 chapters. Each chapter focuses on a verse and one truth about God, including a thought from the author, and a closing prayer.
Some of the beautiful reminders include:
Comforter. "Yes, we need to know nothing is too big for our God to handle. But we also need to know nothing is too small for him to reach out his hands to us and hold us close." (page 64)
One Who Sees. "Wherever we are today, God sees not only our skin but also our souls, our strengths, and our scars. What we choose to show the world and everything we hide from it. And he loves every part of us." (page 161)
Perfecter. "We don't need to hide from Jesus either, even in our most human moments. Because this is our story and our truth and our sure hope: we are imperfect women who are perfectly loved by a perfect God." (page 219)
This book is filled with encouragement and hope as that is the style of Holley Gerth – she's an encourager. But more so, the book is filled with encouragement and hope as it brings us to remember the character of our God:
"God is not a man, so he does not lie.
He is not a human, so he does not change his mind.
Has he ever spoken and failed to act?
Has he ever promised and not carried it through?
(Numbers 23:19, NLT)
---
You can follow Holley Gerth in the following places:
Website
Twitter
Facebook
---
*** I received a copy of this book from Revell Books for review purposes. The opinions expressed in this review are my own. This post contains affiliate links.
Today I am joining … Moments of Hope and Tune In Thursday and Heart Encouragement and Destination Inspiration and Booknificent Thursday .