Each Friday my writing stems from a word prompt. Five minutes, one word prompt. The prompt this week is … Potential.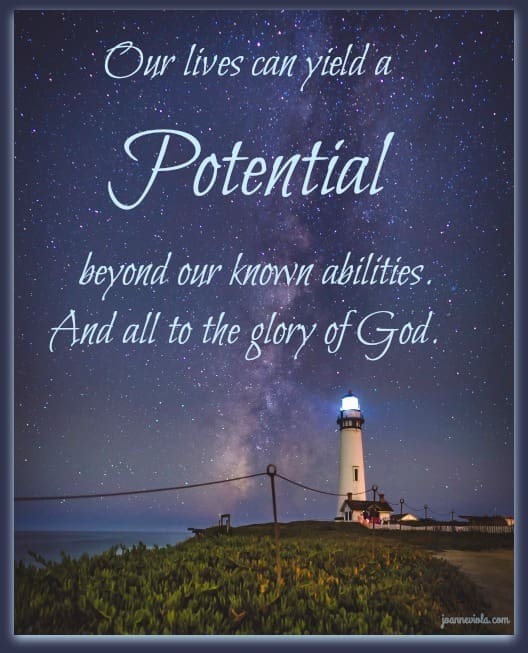 'Potential' has been defined as "possible as opposed to actual; capable of being or becoming" (dictionary.com).
The definition brings a smile for God has been seeing the potential in each of His children long before dictionaries were in existence.
To Gideon, who was hiding in a threshing floor, the angel of the Lord appeared and said, "Mighty hero, the Lord is with you!" (Judges 6:12, NLT). Other translations use the words 'man of valor' or 'warrior' but nonetheless, Gideon was not any of these words – yet.
These adjectives spoken to Gideon pointed to his potential heroism, who Gideon was yet to become as he trusted God and was empowered by God.
This encourages me this morning. There is a hidden potential in each of us as well. Not yet tapped but waiting patiently to be ignited in us:
"Now all glory to God, who is able, through his mighty power at work within us, to accomplish infinitely more than we might ask or think. Glory to him in the church an in Christ Jesus through all generations forever and ever! Amen." (Ephesians 3:20-21, NLT)
As we rely on Him –
day by day, each and every day, daily –
our lives will yield a potential beyond our known abilities.
And all to the glory of our God.