We competed the study, "31 Days in the Gospel of John", feeling a little sad as John has come to feel like a friend to the group. The last three days brought powerful insights:
Jesus, Crucified. We found Jesus in the Garden of Gethsemane as we read in John 19:16-19, Mark 15:25-30, Matthew 27:51-53, Luke 23:47-49. The author reminded us of the familiar words to the old hymn:Â  "Lest I forget Gethsemane; Lest I forget Thine agony; Lest I forget Thy love for me, Lead me to Calvary." Jesus feels our sin but also feels our sorrow.
Jesus, Risen One. In reading Matthew 28:1-8, Matthew called her "the other Mary". Perhaps she was not the more prominent Mary but she was noticed and noted. We all, at times, have felt like "the other", and this just reassures our heart this morning that the Lord sees us, He notices us, and our circumstances, and He is right there present with us. Each one of us are Jesus' favorite in the same way John felt like His favorite.

Jesus, Master Chef. We closed the study with reading John 21:12-14. Jesus meets His close friends on the beach after His resurrection. The author writes: "It's easy to "miss" Him. There are times of busy-ness, illness, grieving, or fast 21st century living when we miss Him. The Master isn't pushy and oft times it is in the quiet when He comes. In the mundane. In the minutia of our days. Pray for a keen sense of Him. Take the time to seek Him each day, if only for a few moments. Remember, He's a promise keeper … He tells us IF we seek Him? We will find Him. I don't know about you but I want to see Him in everything, every part, every moment of my life. Will you join me?"

We are coming into probably the busiest seasons of each year. Thanksgiving. Christmas. New Year's.
Let's keep our hearts and minds set on Jesus, maintaining a keen sense of Him every day. Let's see Him in every day as we bring this year to a close.
Jesus.
Crucified.
Risen One.
Master Chef.
Jesus.
---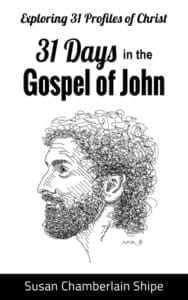 The other posts in this series are: Jesus ""
The Light, The Lamb & The Living Water "" HERE.
Jesus "" The Son, The Bread, The Teacher "" HERE.
Jesus "" Freedom Fighter, Healer Friend "" HERE.
Jesus – Lifted Up, Way Truth Life, The True Vine – HERE.
You can follow Susan Chamberlain Shipe on her Blog, Facebook, and Twitter . You can also find other wonderful books which she has written on Amazon . Links all provided – just click and follow.
---
Today I am joining … Trekking Thru the Week and #RaRaLInkup and Grace Full Tuesday and Tell His Story .