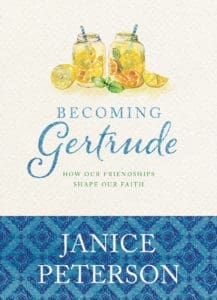 Becoming Gertrude: How Our Friendships Shape Our Faith by Janice Peterson is a small sweet book on the beauty and impact of friendships in our lives. The book is a short read which leaves you feeling like you have had a visit with a dear friend. 
The author begins with sharing of a relationship which left its mark on her entire life – Gertrude. Through this one friend, she learned the lesson of living "in the rhythm of encouragement, speaking life and hope often" (page xxvii).
The book is broken down into five chapters, each introducing a key component of friendship:
Caring – intentionally choosing to see and address the needs of others. Caring means looking outside of ourselves and being moved to action.
Acceptance – means appreciating each other's differences and recognizing we are all in the process of becoming who God has created us to be.
Service – intentionally focusing on the needs of others. Caring and service go hand in hand.
Hospitality – is defined as "the welcoming reception and treatment of guests and strangers in a warm, friendly, generous way" (page 67).
Encouragement – offers hope in dark times and points a person towards life.
In writing about his wife, Eugene Peterson stated:
"While I have written extensively on spiritual theology, she has practiced the art of spiritual friendship, "always present, always caring." She is the most practical theologian I know."

(taken from page 124)
Upon closing the last page, you will feel called to build better and stronger friendships as you go through the journey of life.
May we each be challenged to become "practical theologians".
*Tyndale House Publishers has provided me with a complimentary copy of this book. The opinions are all my own. This post contains an affiliate link at no extra cost to you.