"You will keep in perfect peace all who trust in you, all whose thoughts are fixed on you!" (Isaiah 26:3, NLT)
Peace. We often thing of it as the absence of strife, but it encompasses much more. It is an overall sense of well-being. It is a security and a soundness of mind.
The word "well-being" has my attention as it is the second time in a week it has crossed my path. I shared about it in this post here.
As we fix our minds on Him, He fixes our minds,
and brings well-being to our souls.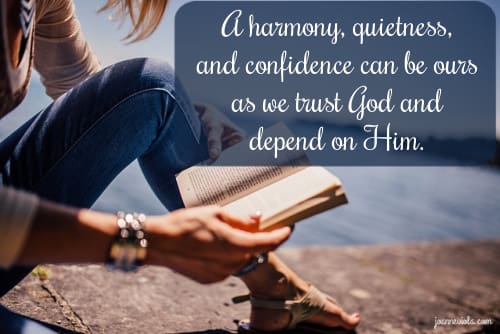 This verse is an exhortation, an urging by the prophet to trust God, to keep on depending on Him always.
We are to be committed to, dependent on, and leaning upon God. Humble dependence on God will produce a trust in God's abundant strength; and that trust in God will produce peace.
The more we come to trust and depend on God, the more peace we will experience. As we experience His peace, we come to trust God all the more.
It all comes down to telling God that which has us concerned:
"Be anxious for nothing, but in everything by prayer and supplication with thanksgiving let your requests be made known to God." (Philippians 4:6, NASB)
"The Greek word translated "anxious" means "to be pulled in different directions." Our hopes pull us in one direction; our fears pull us the opposite direction; and we are pulled apart! The Old English root of the word means "to strangle."

(from The Wiersbe Study Bible, page 1747)
As we pray and keep our minds fixed on God, God will be faithful to guards our hearts and minds.
We can have lives marked by perfect peace.
A harmony, quietness, and confidence can be ours
as we trust God and depend on Him.
---
---
We are to wait and watch for what God will do. Our position is to humble ourselves before Him, to pray, to ask for His help. And then … we wait and watch. We follow Jesus' example. I so appreciated reading "Watch and Pray" by Lisa Blair.
Come, sit a spell. Bring your coffee, your posts, and your thoughts. If you link up, kindly visit those who have drawn up a seat around you.
You are invited to the Inlinkz link party!