So hard to believe that thirty five years ago, we walked down the aisle ready to start our life together. The years have flown by with much happening and changing us over the days together.
The day which started it all, we both wore all white. My gown, soft and flowing, perfect for me. His white tux, now looking back, reminds me of Saturday Night Fever.
And our anniversary. A completely different day than the one in which we embarked on our journey.
We signed up to do an excursion – an off road, X-rail experience – a first for us.
Strapped in our helmets and seats, in a vehicle which looked like a metal frame on wheels, off we went following our guide. We were to ride through the jungle of Cozumel to the Jade Caverns over varied terrain. And varied terrain it was …
We first saw it in the distance – the mud hole. And true to his nature, he slowed down, creating more space between us and the vehicle in front of us. And then he opened it up.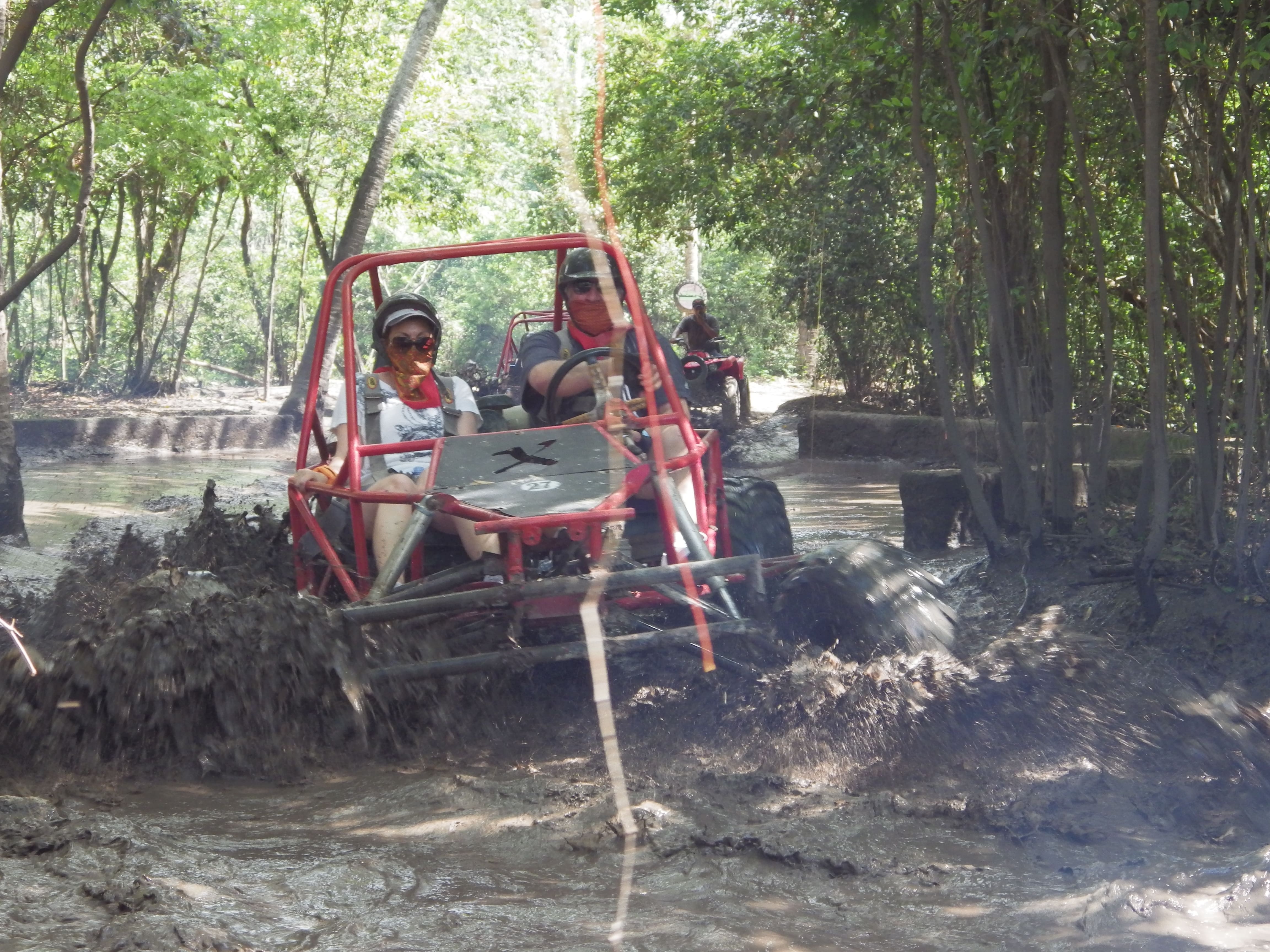 We hit the hole and mud everywhere – up, down, in, over – covering us completely. And I do mean completely. We broke out into a fit of laughter. I asked him what he was thinking although I knew exactly what he was thinking.
Over the rocks and hills and dirt paths we continued. Soon there was another mud hole. We looked at each other and nodded. And so continued our ride, hitting one mud hole after another at full speed.
When we finally arrived at the rest area, we laughed hysterically as never before had either of us seen the other quite as dirty.
And that is when it hit me ….
We started out wearing pure white – clean, pure and unblemished by life. Thirty five years later, here we were, covered in mud. We laughed at the irony of the contrast yet quickly sobering at the truth of it all.
Do we even realize when we are getting muddy? Sure there are those dramatic times, much like we were experiencing, where the mud flies high, splashing everywhere, slapping your skin. But then there are those times, similar to when the dust just lingers until it slowly piles getting a little thicker over time, until it becomes visible. You hardly notice those days at all.
The mud no longer mattered to us after we hit the first hole. In the heat and humidity, at times, the muddy water was actually welcomed. More or less mud splashing on us no longer made a difference. Resignation had taken rule of our senses.
Is that not the way it also is in life? If we are not careful to walk in His ways, maintaining integrity and character, we may not even notice when small particles of "mud" settle into our lives.
Scripture tells us —
Christ loved the church and gave himself up for her to make her holy, cleansing her by the washing with water through the word, and to present to himself as a radiant church, without stain or wrinkle or any other blemish, but holy and blameless. (Ephesians 5:26, NIV)
We so need His Word to cleanse us. To make us pure. Again.
Yes, it was a day so different from the day in which we started it all together. And yet through all the laughter and mud, we found ourselves so grateful for His grace –
Grace sustained us all the years.
Grace has been at work in our lives.
Grace presents us without stain or wrinkle or blemish.
All His Grace!
I am joining with … Mon. Musings and Sharing His Beauty and Unforced Rhythms and Making Your Home Sing and Create With Joy and Motivation Mon. and Inspire Me Mon. .