On a Sunday night, we sat on the couch the three of us. I was flanked by each of my granddaughters and "the book of awesomeness" was spread out before all three of us.
It was not a story or photo book. It was the store Christmas circular that boasts of TOYS. You know the one … the glossy book our kids all go crazy over.
So while their parents enjoyed a night out, my ears were filled with why (or why not) they needed each toy pictured. Every page contained items they each wanted. This should give you an idea of how much "awesomeness" was needed.
It is amazing how we can desire and long for things we did not even know we needed or existed. We want to receive tangible gifts, stacked high before us, come Christmas morning.
The slick advertising, with their staged photos, can lure us in quicker than a fish on a hook. It only takes that one time, cursory look over to make us think, "I need that!"
In the quiet of the room, only the hum of the dishwasher in the background, I remember the words I recently read. Reaching for the book, I read her words once again:
"The shiny temporary pleasures advertise to us this hungry season pale when propped beside the magnificent majesty of the King of heaven. He is our hope, our perpetual promise of righteousness to come, the fullness of heaven in human form, plunged low and raised again for our sake.

Rather than grab hold of the temporary to fill our need, we can and ought to recall the generosity of God who sent His own son that we might have fellowship with Him in the fullness of His glory. He is with us in the wait. He has come and will come again. What we ache for most this season can't be found between the pages of a magazine. The very gift we need most we already have!

(from Come, Lord Jesus by Kris Camealy, Day 3)
It is easy to forget that which has already been provided to us.
"Every good and perfect gift is from above, coming down from the Father of the heavenly lights, who does not change like shifting shadows." (James 1:17, NIV)
Not only does our heavenly Father not change, but the gifts He gives to His children have been consistent for all time. His Word remains the same and is truth which has been ringing out every year, reminding us He has given us the gift of His Son.
"Now you have every spiritual gift you need as you eagerly wait for the return of our Lord Jesus Christ." (1 Corinthians 1:7, NLT)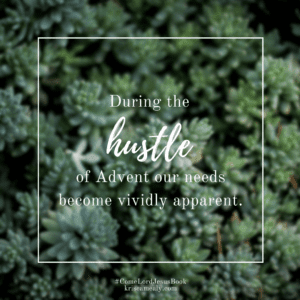 The hustle of the season is already ramping up. It can be seen in my mailboxes – both real and virtual – packed full with circulars and advertisements, all trying to tempt me to make my purchases with them.
As the call to hustle gets more insistent and increasingly louder, I want to remember this –
He is the gift.
---
---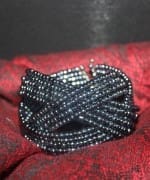 Giveaway: During the month of November, I will be doing a giveaway here each week of one item from The Mama Shop. This week I will be giving this beautiful cuff bracelet to one of you. Just visit the shop and then let me know you did in the comments. This giveaway will remain open until Tuesday midnight. I will contact the winner Wednesday, just in time for the next giveaway on Thursday. Should you find an item you want to purchase, here is a coupon offering a 30% discount + all shipping is free.
** **Thank you to all who participated in this giveaway. The winner was selected by my using random.org and contacted by email.
Today I am joining … Thought Provoking Thursday and Grace Moments and Heart Encouragement Thursday and Hearts For Home .