Decisions do not come easy for me as I fear being wrong. Fear can immobilize me every time as I do not want to make a bad decision, especially when its impact will be felt by those I love.
Such was the case recently.
Waking early as is my custom, opening to the scheduled reading, the words are splayed before me:
"Trust in the Lord with all your heart; do not depend on your own understanding. Seek his will in all you do, and he will show you which path to take." (Proverbs 3:5-6, NLT)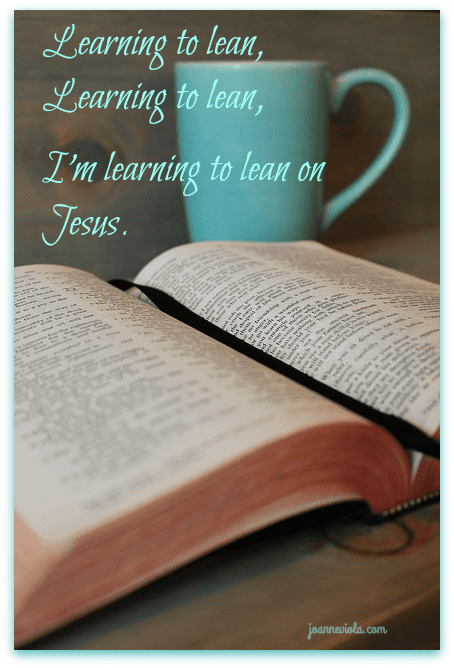 I noticed the word tenses. "Trust in the Lord" (verse 5) – present tense. "… and he will show you …" (verse 6) – future tense. While we must trust Him in the moment, moment by moment, and in every moment, it does not mean that He will show me now in this moment. There are times the answer does not come immediately, or in the time frame I desire.
The questions begin quietly, in the recesses of my mind, but they are there none the less. "Are you willing to wait for Me to show you? And when I show you, will you trust Me?"
He had truly put His finger on the pulse of this – Why do we have such a hard time waiting for Him to give us an answer or to show us what is best?
I get up to grab another mug of coffee to mull this over a bit before the start of my day. Waiting demands me to trust Him. Trust is built up over time and as I wait on Him, trusting Him to show me, I am at the same time growing in my trust of God.
But then fear, coupled with doubt, begins to threaten my trust. The questions begin circulating in my head:
Will He give me the desired outcome?
Does He truly know my desires at this time?
Does He realize how disappointed we will all be if this doesn't work out?
Are you waiting on Him at this time? Are you trusting Him? If the answer should be a while in coming, will you forge ahead, or will you continue to wait on Him?
These may seem like simple questions to answer, but can often prove to be challenging. Waiting will also require that we not "depend on our own understanding" and go ahead with what seems to make sense to us.
As I sat writing and thinking on all of this, the words to an old song (hymn) came back to me:
"Learning to lean
Learning to lean
I'm learning to lean on Jesus
Finding more power than I've ever dreamed
I'm learning to lean on Jesus."
For an entire week, we weighed the matter from every angle possible, or at least, from what was visible. Advice had been offered to think the matter through, digging as deeply into the situation as we were able.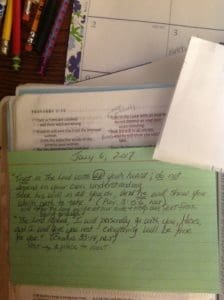 And so, on that particular morning, with my index card in hand, I set out to uncover answers to the questions looming. The index card filled me with the assurance God had our back. He had our best interest at heart, even if the outcome was not as we desired.
This trusting, waiting, and not depending on ourselves can be a challenge at times. Often it is the most difficult of choices we make. Yet it is the way we grow and our lives bear fruit.
May we grow in our ability to wait on Him,
trusting Him in all things,
and not depending on our own understanding.
Today I am joining … #DreamTogether and Moments of Hope and Inspire Me Monday and #RaRaLinkup .